Capabilities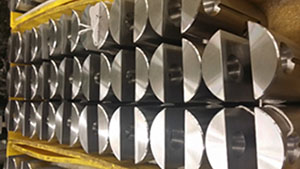 Highpoint Tool and Machine is your best source for your precision machining requirements. Our machinists are proud of what they do and constantly undergo new and additional training to keep up with the latest cutting tool technologies, software improvements, and machine tool operation techniques. Our state of the industry machine tools are maintained in top working condition for safety and productivity, and upgraded as required to capitalize on technology advancements. Our facility constantly exercises 5S methodology to keep everything safe, clean and in its place.
The proprietary MRP system at Highpoint allows us to manage your part or project with delivery accuracy previously unheard of in the tool and die or precision machining industries. The visual system uses input from each employee to provide real-time progress data for every operation on every job, resulting in proper allocation of resources to assure the final delivery date is always predictable and accurate.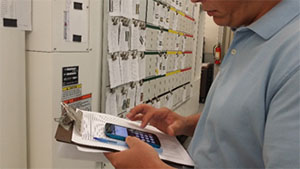 The management team is specifically organized to provide exactly what the machinists need to perform at optimum levels. Documents are controlled from Quoting and Order Entry through Material acquisition and certification not only to provide complete Documentation Packages for the Customer, but to assure our job Routers are accurate, efficient and complete. These Routers feed our visual MRP system which produces uncanny predictability and control of the machining processes and final delivery date. Highpoint Tool and Machine actively manages its partnerships with the numerous Outside Service suppliers required to provide complete component manufacture responsibility or complete project capabilities to achieve our Customers confidence in us as a value added supplier.
The equipment at Highpoint can handle machining parts up to forty inches or three hundred pounds. One of a kind or prototype parts are as normal for us as repeat orders and production runs. We run small lots from one to forty pieces, as well as small production runs of forty to a thousand pieces.
Highpoint's top CNC machinists specialize in prototype work, developing new parts with Customers engineers and providing machinability input during product design. Our five axis mill-turn with sub spindle provides "done-in-one" capability, valuable for making changes during prototype and development work.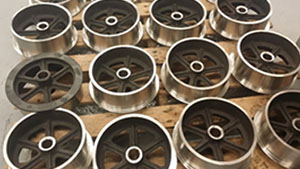 The custom parts that Highpoint produces are programmed using MasterCam and Esprit CAM software to generate our tool paths, working from Customer supplied electronic models, drawings, conventional prints or even reverse engineering. Highpoint machinists are comfortable precision machining highly engineered alloys like Inconel and other stainless steels, titanium, aluminum, brass, and carbon steel, bar stock as well as forgings and castings, also composite's, nylons and even cast iron. The Precision Grinding department specializes in high precision cylindrical grinding, providing quick turnaround on thousands of assorted valve stem pins for the hot runner injection molding industry. Our CNC cylindrical grinding and super polishing capability supplies numerous styles of pins for the Oil & Gas industry.
Highpoint's receiving area stores incoming material and is equipped with an automatic saw for bar stock preparation. All material is certified and controlled.
17380 State Highway 198
Saegertown, PA 16433
Phone: 814.763.5453
Fax: 814.763.4122
Email: msippy@highpointtool.com You can find us on